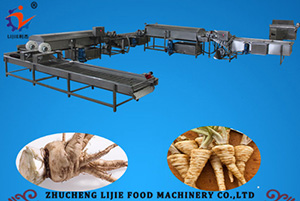 Chinese Herbal Medicine Cleaning Line
The brush cleaning machine adopts the bush to clean out the sundries and hairs on the surface of materials and uses the high-pressure spraying measures for thoroughly cleaning. The bottom of machine is slope and is equipped with ducts for discharging sediments.
Characteristics of Vibrating Screen:
1. This machine has advanced structure, small volume, light weight, high efficiency and low noise and adopts the late-model vibration motor as its direct drive.
2. The screen has simple structure and it is easy for maintenance. The screen adopts the high strength metal mesh or punched corrosion resistant plate which is durable in use.
1. Belt conveyor: it can continuously convey products and it applies to the production and process in assembly line due to its easy and convenient operation;
2. Material of belt: PVC, PU, PE and other materials which can meet the oil resistance, corrosion resistance, anti-static electricity, food grade and other special requirements;
3. Structural type: straight transportation, climbing transportation, turning transportation and other types.
C. Continuous Drum Washing Machine
This machine consists of rack, transmission reducer, transmission hollow screw, roller, sprinkler pipe, drip pan, high pressure nozzle and other parts.
D. Brush Cleaning Machine
H. High-pressure Spraying Cleaning Machine
This machine can rinse materials with clean water through high-pressure pump. It can thoroughly clean the materials through spraying of high-pressure nozzle to process products rapidly.
The machine can be designed and customized according to the producing and processing amount of customers.
Applicable Range of High-pressure Spraying Cleaning Machine:
The machine is widely used for cleaning and processing various Chinese herbal medicines.
This equipment adopts the assembly line work which has preferable cleaning effect and high efficiency which applies to cleaning and processing various Chinese herbal medicines.